IWWAGE celebrates 5 years of Evidence to Policy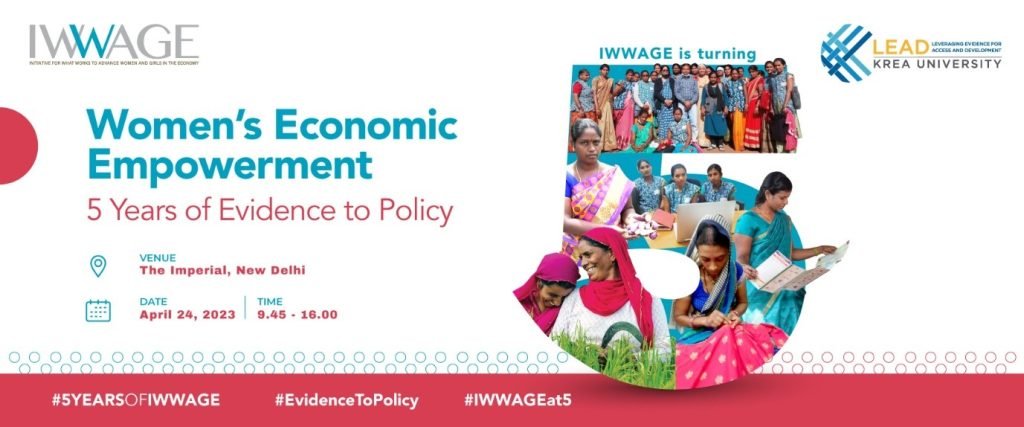 Global evidence shows that women make a significant contribution to the economy, yet they continue to be disproportionately affected by poverty, discrimination and exploitation. Despite economic growth, decline in fertility rates of women, and rise in schooling and improved learning outcomes for girls, Female Labour Force Participation (FLFP) levels in India remain alarmingly low. Resources, assets and other rights and entitlements also continue to remain low, leading to limited to no impacts on other social development outcomes. Economic empowerment of women is fundamental to achieving gender equality and inclusive growth.
The Initiative for What Works to Advance Women and Girls in the Economy (IWWAGE) was set up in 2018 to address this challenge. The initiative aims to build on existing research and generate new evidence to inform and facilitate the agenda of women's economic empowerment. IWWAGE is hosted by LEAD, an action-oriented research centre of IFMR Society and has strategic oversight and brand support from Krea University (sponsored by IFMR Society) to enable synergies between academia and the research centre. Since its inception, IWWAGE has partnered with renowned institutions, scholars and academicians, experts in the area in order to generate new evidence for developing deeper understanding of the issues around women's labour force participation. It has also encouraged young scholars to come forward and work in newer areas of research on these issues. The initiative has also nurtured young talent, built their capacity in secondary data analysis, gain experience of field-based studies and develop writing skills to produce a body of work from IWWAGE that adds to the existing debates and discourse around measuring women's work, identifying challenges and barriers faced by women in accessing labour markets, improving labour market outcomes for women as well as find mechanisms for improving and increasing opportunities for women in all sectors of the economy.
IWWAGE through partner organisations in Chhattisgarh, Jharkhand, Madhya Pradesh and Odisha is testing innovative solutions on the ground to understand what works to build women's agencies. The initiative SWAYAM (Strengthening Women's institutions for Agency and Empowerment) provides technical assistance to DAY-NRLM under the Ministry of Rural Development on raising awareness and capacity building to integrate gender perspectives across different verticals of the NRLM and state cadres, establishing gender resource centers that respond to women's needs and support the optimization of existing resources. Additionally, IWWAGE through SWAYAM is also engaged in the evaluation of programmes that measure the strength of women's institutions as well as the efficacy of these programmes that endeavour to drive women's empowerment.
IWWAGE has engaged with a range of stakeholders in its journey over the last 5 years carrying forward its mandate of improving women's economic empowerment not only through evidence generation but also moving a step further and attempting to integrate its findings into policies for women – working with the government, helping with developing policy interventions with the private sector and raising awareness on critical issues by engaging with media and designing large scale campaigns.
A day-long convening was held in New Delhi to mark the 5 years, showcase some of its milestones and discuss potential focus areas for a way forward. The convening began with opening remarks by Sona Mitra, Principal Economist, IWWAGE leading to the keynote plenary.
The keynote plenary was delivered by the Hon'ble Chief Economic Adviser, Shri Anantha Nageswaran, followed by a discussion with eminent panelists Shri Kapil Viswanathan, President, Krea University and Ms Archna Vyas, Depuy Director, Communications, Bill and Melinda Gates Foundation.
The next session was focused on 'Learnings around women's labour force participation'. The panelists comprised of Ms. Farzana Afridi, Professor of Economics, Indian Statistical Institute, Ms. Sabina Dewan, President & Executive Director, JustJobs Network, Ms. Soumya Kapoor Mehta, Senior Social Development Specialist, The World Bank, and Ms. Yamini Atmavilas, President, Strategy, Data & Research, The Udaiti Foundation, followed by a discussion with Ms. Shamika Ravi, Member, Economic Advisory Council to the Prime Minister of India.
They shared their views around the low Female Labour Force participation (FLFP) in India. It is a matter of concern that FLFP is lower in India as compared to other low and middle-income countries. The very low FLFP makes India an outlier among countries with similar levels of education and income. The panellists highlighted the reasons behind the low level of FLFP and its persistence over time which include both supply-side and demand side factors.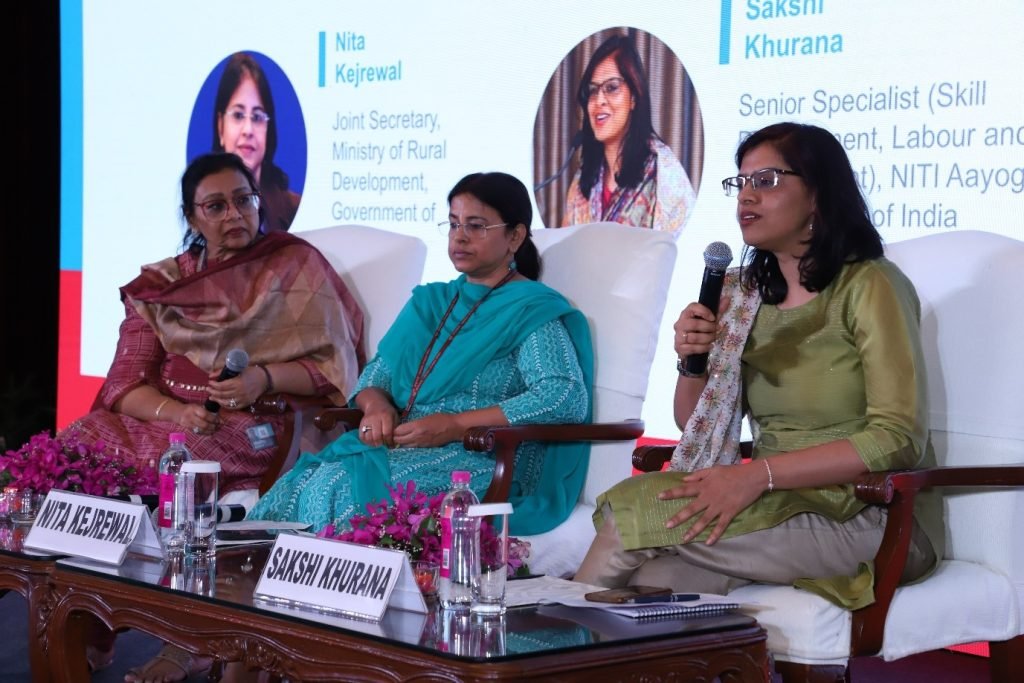 The next session focused on partnerships with Government on women's economic empowerment. The speakers for this panel were Dr. Sakshi Khurana, NITI Aayog, Ms Nita Kejrewal, Jt. Secy,DAY-NRLM, MoRD and this session was moderated by Madhu Krishna, Deputy Director and India Gender Lead, Bill and Melinda Gates Foundation.
The last session of the day was on partnerships with organisations/ institutions. The panelists comprised of, Ms. Madhura Karnik, Chief Growth Officer, Haqdarshak Empowerment Solutions, Ms. Sumitra Mishra, Executive Director, Mobile Creches, Ms. Suneeta Dhar, Co-Convenor, Feminist Policy Collective, chaired by Ms. Sunaina Kumar T20 Coordinator and Senior Fellow, Observer Research Foundation.  They shared collectives view on building partnerships, civil society organisations as part of the solution and how crucial it is for the organizations to hold equity in the community.
The program ended with a closing address by Sharon Buteau, Executive Director, LEAD at Krea University. Ms. Buteau reminisced about the humble beginnings of IWWAGE five years back and how crucial it is to bring the right people into the correct positions. IWWAGE as an institution is critical to creating knowledge and evidence around women's economic empowerment and engaging in constructive discourses around the issue; an institution like IWWAGE is a spark creator. Partnerships and connections bring effective solutions, and IWWAGE has been acting as a platform to bring people together and bring knowledge-based solutions that are embedded in the Indian context while also drawing from global evidence.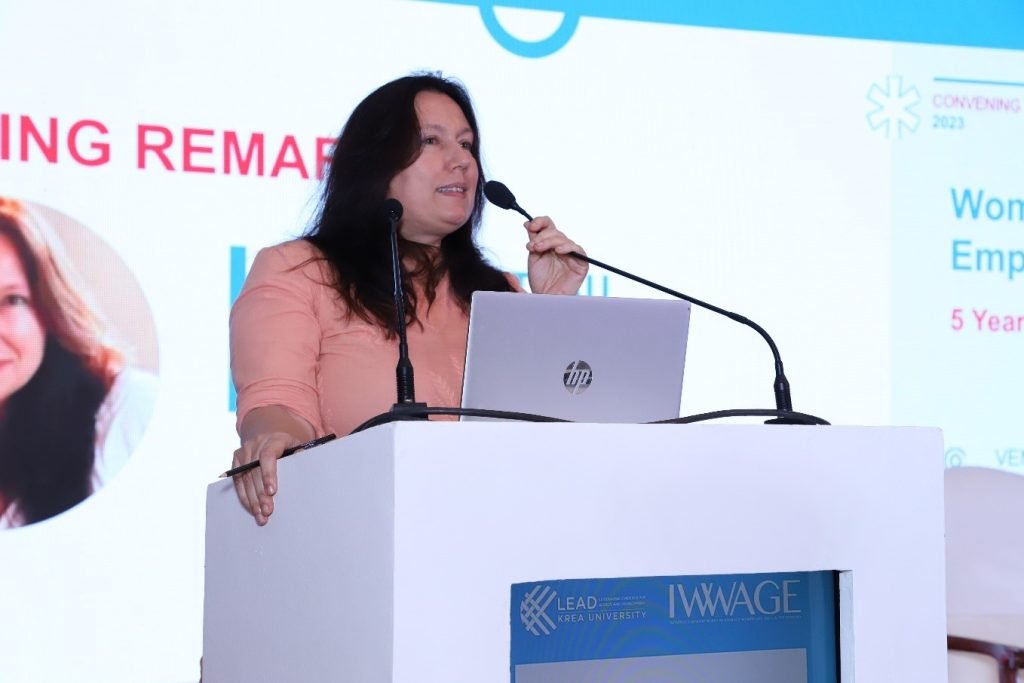 The world is changing, and it is pertinent to think of ways in which women can be equipped to deal with changes. We must persevere when we work with issues of such complexity. IWWAGE has pioneered and persisted in the last five years, and we look forward to many years.
IWWAGE also launched a compendium capturing our journey over the last five years, "From evidence to action, shaping the future of women at work". You can access the flipbook here: https://iwwage.org/iwwage-journey-book/
You can find the whole recording of the session here: https://bit.ly/3BGO3Y8