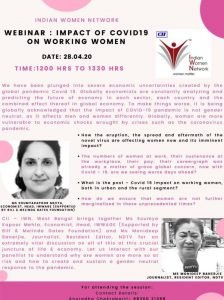 We have been plunged into severe economic uncertainties created by the global pandemic, COVID-19.  Globally, economists are constantly analysing and predicting the future of the economy in each sector, each country and the combined effect thereof, in global economy. To make things worse, it is being globally acknowledged that the impact of COVID-19 pandemic is not gender neutral, as it affects men and women differently. Globally, women are more vulnerable to the economic shocks wrought by crisis such as the coronavirus pandemic.
How the eruption, the spread, and aftermath of the novel virus are affecting women now and its imminent impact?
The numbers of women at work, their sustenance at the workplace, their pay, their career-graph, was already a matter of grave global concern, now with COVID-19, are we seeing worse days ahead?
What is the post-COVID-19 impact on working women, both in urban and the rural segment?
How do we ensure that women are not further marginalised in these unprecedented times?
CII-IWN, West Bengal brings together, Ms Soumya Kapoor Mehta, Economist, Head, IWWAGE and Ms Monideep Banerji, Journalist, Resident Editor, NDTV, on an extremely vital discussion on all of this at this crucial juncture of life and economy. Let us interact with our panellist to understand why women are at more risk, and how to create and sustain a gender-neutral response to the pandemic.