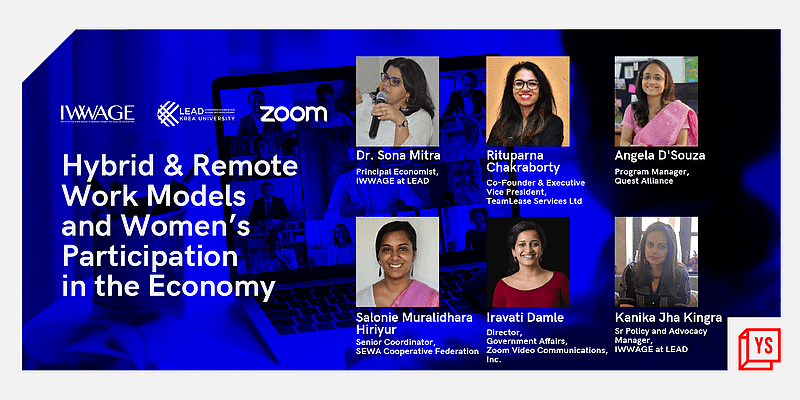 COVID-19 has fundamentally altered the nature of work across the world. A July 2020 McKinsey study found that female job loss rates due to COVID-19 have been about 1.8 times higher than male job loss rates globally. Meanwhile, an ILO report from July 2021 forecast that by the end of the year, there would be 13 million fewer women at work globally, while men's employment will begin to recover to 2019 levels.
Despite this grim outlook, work models are evolving, and there are reports of new opportunities emerging. In India, owing to preventative lockdowns, remote and hybrid work opportunities have increased, with a recent NASSCOM survey reporting that around 70 percent of organisations are looking at hybrid work models even beyond the pandemic.
To know more about this concerning fall in women's participation in the economy, and to understand what policy measures and solutions can be used to make emerging modes of remote and hybrid working work for women, IWWAGE and Zoom, along with HerStory, hosted a learning roundtable discussion on the topic 'Hybrid & Remote Work Models and Women's Participation in the Economy'.
Moderated by Kanika Jha Kingra, Senior Policy and Advocacy Manager from IWWAGE at LEAD, the panel comprised Rituparna Chakraborty, Co-founder and EVP at TeamLease Services Ltd; Sona Mitra, Principal Economist, IWWAGE at LEAD; Angela D'Souza, Program Manager, ITI Ecosystems and Youth Programs at Quest Alliance; Salonie Muralidhara Hiryur, Senior Coordinator at SEWA Cooperative Federation; and Iravati Damle, Director, Government Affairs at Zoom Video Communications, Inc. The panellists spoke about the cross-sectoral, structural constraints facing women who are entering the workforce today.
Read the coverage by Your Story here.