How covid-19 changed the relationship of women with the workplace
Women's work and livelihoods were adversely impacted in 2020. In this context, the report titled "Women and Work: How India fared in 2020" by Initiative for What Works to Advance Women and Girls in the Economy (IWWAGE), in collaboration with The Quantum Hub, looks at trends and policy developments that came to shape and defined the life of women across India. These infographics reflect the key findings of the report.
A new report covers economic and social indicators (like female labour force participation, barriers to work and livelihoods, financial inclusion, digital access, skilling, education and violence against women) that played a central role in determining women's role in the Indian economy. (Photo: John Moore/Getty Images/AFP) (AFP).
"Policymakers, civil society organisations, economists, donors in the social sector, grassroots leaders are all trying to gauge the extent to which the pandemic has impacted women in a bid to chart out a gender responsive recovery plan."
"According to the Government of India's data, women's share in new payroll additions saw a gradual decline between June and August 2020; falling below the 20% mark in August, but bouncing back in September. However, the data for the upcoming months would be crucial, considering the International Labour Organization's (ILO) forewarning that the pandemic is likely to widen inequalities in the labour market."
"A gender-disaggregated analysis of data available on the MGNREGA data portal reveals a slight decline in person-days worked by women in 2020-21 – which can be a possible outcome of the mass exodus of migrant workers from urban areas after the nationwide lockdown in March 2020, leading to more men seeking employment under the scheme in rural areas."
"In India, a large proportion of women have remained cut off from one of the largest technological revolution of our times. Mobile and internet access (for Indian women) remains one of the lowest across the globe. While this has historically prevented women from accessing financial services, information and news, and education and work opportunities, these differences were further exacerbated and led to difficulties in accessing relief packages and information during COVID-19 as well."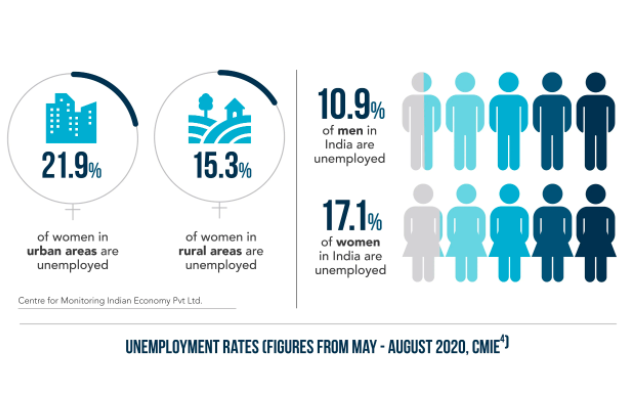 "According to the data from the Centre for Monitoring Indian Economy (CMIE), the labour participation rate, both at the urban and rural level, seems to have been affected the most during Phase-I of the economic lockdown in April. Unemployment rates were higher among women than men, and more so in urban areas."