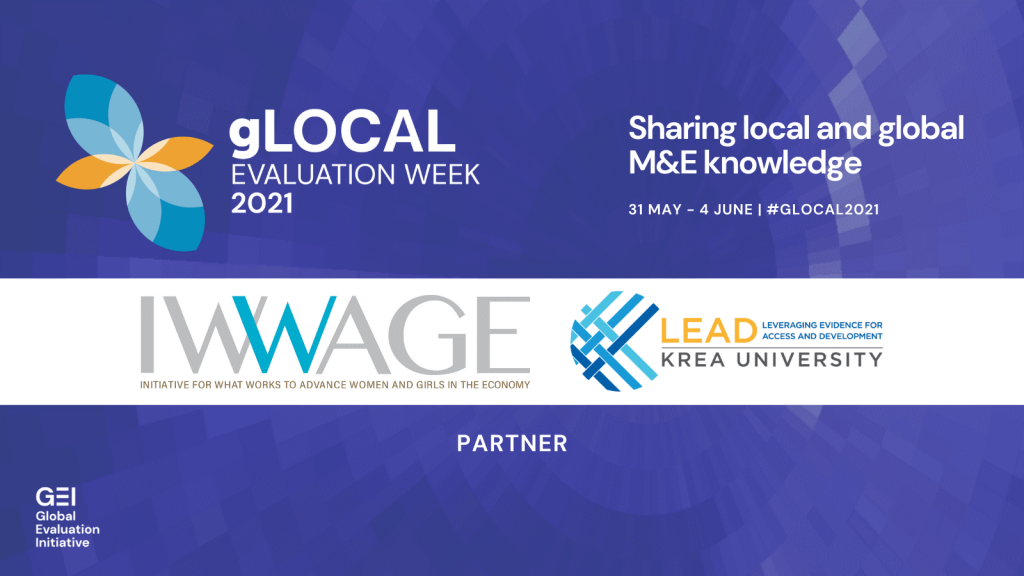 The Initiative for What Works to Advance Women and Girls in the Economy (IWWAGE) at LEAD, is organizing two panel discussions that are a part of the gLOCAL Evaluation Week 2021. Convened by the Global Evaluation Initiative (GEI), the event is a dedicated week for global knowledge and experience sharing events related to monitoring and evaluation. The two IWWAGE led panel discussions will focus on 'Building forward better' by ensuring that the evidence being generated and data being collected are responsive to the needs of women and girls.
Collecting data from women and girls remotely: lessons from the field
2 June, Wednesday, 12:00-13:00 IST
With the onset of the pandemic, data on its wide-spread socio-economic and gendered impact came largely from remote data collection methods, including phone surveys. However, these methods were replete with several challenges. This panel discussion aims to navigate the challenges faced by research organisations and NGOs in collecting data remotely, the measurement biases that were encountered, and how survey design and its implementation need to evolve to capture the gendered impacts remotely. The panel aims to provide a way forward for organisations to make research and survey design more gender responsive. The panellists include Divya Nair, Director (IDinsight), Kaliat Ammu Sanyal (IWWAGE), Muzna Alvi (IFPRI), and Vineet Bhandari (Dalberg).
Building forward better and more equitable: gendered impacts of the pandemic
3 June, Thursday, 12:00-13:00 IST
COVID has laid bare the deep, pre-existing gender inequalities in India. Even before the onset of the crisis, progress toward gender equality had been uneven – women's labour force participation rates had been declining, the majority of women worked in informal work arrangements, and continued to be burdened by unpaid care work and face gender-based violence.
It is important to account for these impacts that have affected women and girls far more significantly. The panel will share insights from their research findings on various dimensions that have affected women's socio-economic empowerment, and will identify policy solutions and measures for a more gender responsive path to recovery and resilience. The panellists include Ashwini Deshpande (Ashoka University), Dipa Sinha (Ambedkar University) and Yamini Atmavilas (Bill & Melinda Gates Foundation). View the recording here.