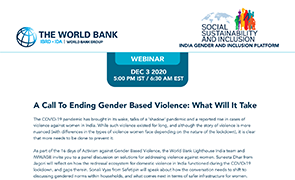 A call to ending Gender based Violenece: What will it take?
Organised by World Bank-IWWAGE, December 3, 2020
The COVID-19 pandemic has brought in its wake, talks of a 'shadow' pandemic and a reported rise in cases of violence against women in India. While such violence existed for long, and although the story of violence is more nuanced (with differences in the types of violence women face depending on the nature of the lockdown), it is clearthat more needs to be done to prevent it.
As part of the 16 days of Activism against Gender Based Violence, the World Bank Lighthouse India team and IWWAGE invite you to a panel discussion on solutions for addressing violence against women. Suneeta Dhar from Jagori will reflect on how the redressal ecosystem for domestic violence in India functioned during the COVID-19 lockdown, and gaps therein. Sonali Vyas from Safetipin will speak about how the conversation needs to shift todiscussing gendered norms within households, and what comes next in terms of safer infrastructure for women. Aparna Mittal from the Samaña Centre for Gender, Policy and Law will bring a legal perspective, particularly highlighting India's anti sexual harassment law, PoSH and its implications. The panel will also include reflections from Bank projects that have been trying to address GBV through education and infrastructure improvements.
View the recording here.